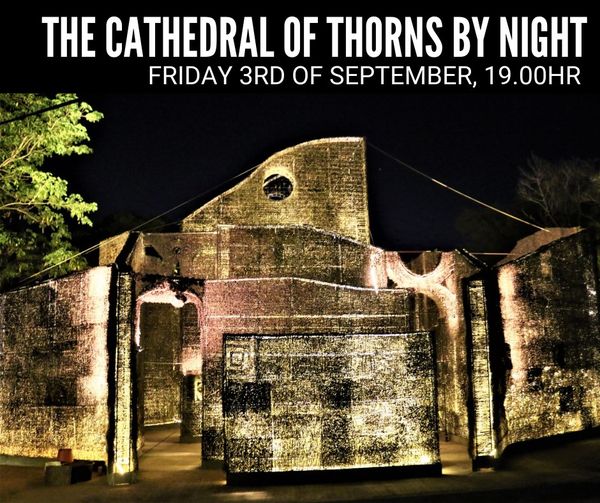 CATHEDRAL OF THORNS BY NIGHT
with artist Herman van Bergen
Friday, September 3, 2021. Time: 7 pm
Tickets Adult USD. 25.00 // Children (6 – 12 yrs) USD.15.00
(RESIDENT RATES AVAILABLE WITH LOCAL ID)
Cathedral of Thorns bij Night-
Vrijdag 3 september, een magische kunstavond onder de sterren
De Kathedraal van Doornen van Herman van Bergen zal voortaan iedere eerste vrijdag van de maand vanaf 19.00u open zijn voor bezoekers. Cathedral of Thorns by Night is een unieke avond waarbij de kathedraal volledig verlicht is en er rondleidingen van de artiest zelf plaatsvinden. Herman van Bergen heeft met zijn Kathedraal van Doornen de CODAaward 2020 in de categorie landschap gewonnen. De CODAawards is een jaarlijkse internationale prijs voor projecten die het beste kunst in opdracht integreren in interieurs, architectuur of publieke ruimtes. Dit kunstwerk verenigt alle thema's van Van Bergens eerdere doornkunstsculpturen in één omvangrijk project: een gebouw ter ere van Moeder Natuur en de Vrije Geest dat door creativiteit verandering teweegbrengt.
"Gedurende deze avonden kunnen zowel lokale bezoekers als toeristen een kijkje nemen in de kathedraal die volledig bestaat uit doornen. Voor de gelegenheid is de kathedraal prachtig verlicht en de artiest, Herman van Bergen zal zelf ook aanwezig zijn. Iedereen heeft de mogelijkheid om Herman persoonlijk te ontmoeten en vragen te stellen over de kathedraal en de totstandkoming hiervan. Tevens is het een goede gelegenheid om prachtige foto's van de kathedraal te maken. De verlichting zorgt voor een magisch effect en laat de schoonheid van de kathedraal nog beter tot zijn recht komen. Tevens is op deze avond ook de Zumpiña shop geopend. De winkel is de perfecte plek om een uniek cadeau te kopen of een mooi kunstwerk voor in huis of kantoor.
Reserveren is aan te raden. Kaarten zijn beperkt.
De eerste avond vindt plaats op vrijdag 3 september en de aanvangstijd is om 19.00u. Entree voor lokaal met sedula is Nafl. 25,- en voor toeristen US$ 20,-. Voor meer informatie kunt u kijken op
www.cathedralofthorns.com