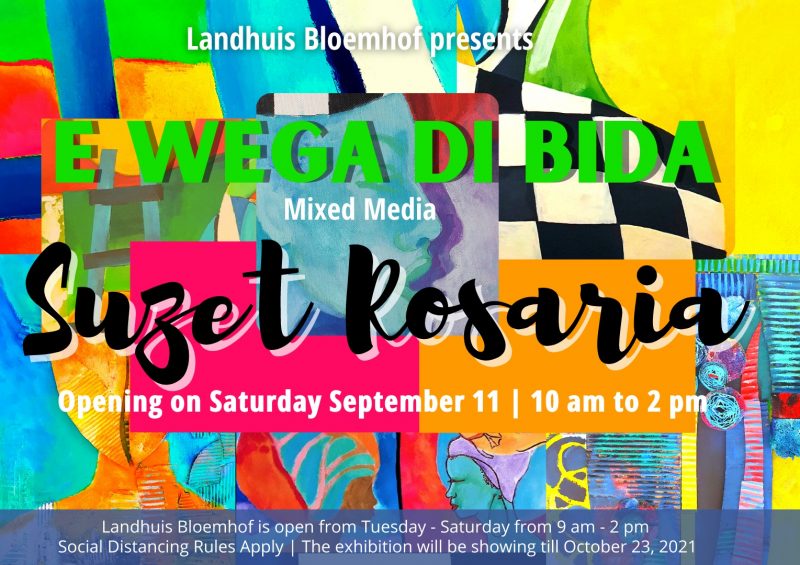 E Wega d Bida
The Game of Life
Mixed media paintings by Suzet Rosaria
Opening Saturday September 11
Exhibition till October 23
E Wega di Bida is an ode to the maturing process of life where self-development takes the forefront. "In the game of life you are the player and your opponent. You decide your next move, but you are also in charge of your reaction to it", according to Rosaria.
Rosaria compares the game of life with the game of chess. The game of chess has dominant black and white colors. Symbolizing the extremes in life, the good and the bad in you and what lies in between.
For this exhibition, the artist used a variety of techniques, materials and vibrant Caribbean colors. With these materials she created textures to add depth and character to her work. With this, she wants to illustrate that each life path has several layers. Life is not always a smooth ride.
Apart from the repetitive theme of black and white checkered fields in her work she also plays with other recurring forms and (human and/or animal) figures. Each having a different meaning.
About the artist
Rosaria finished her studies at the Amsterdamse Hogeschool voor de Beeldende Kunsten (The Netherlands) in 1993. Since 1990 she had various solo exhibition and took part in many group exhibitions in The Netherlands and Curaçao. Her work can be seen in homes, buildings, offices and private collections worldwide. Apart from being a visual artist Rosaria is also art teacher at the secondary school Maria Immaculata Lyceum. For some years now she has been designing carnival costumes for the teen parade for which she received the best designer award in 2019 and the best group overall award in 2020.
E Wega di Bida will show till October 23.
Please look at the Program Overview for workshop dates and activities.