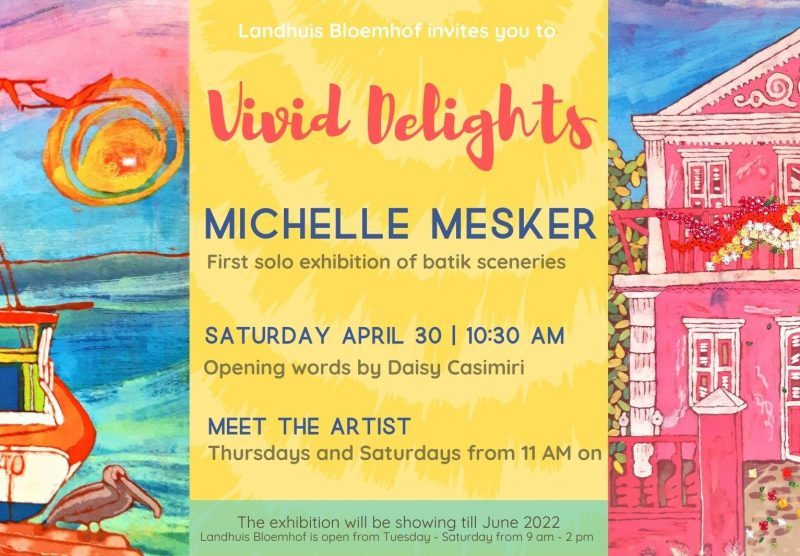 Vivid Delights
Batik Art by Michelle Mesker
Meet the artist every Thursday and Saturday morning.
Vivid Delights consists of a large collection of framed batiks in various sizes. Some are enriched with very subtle embroidery. Each of these unique works of art is the result of the sum of the many experiments and expertise gained over the past decades with the century-old batik craft. Michelle mastered this technique and explored the limits of what was feasible, thereby becoming increasingly detached from the traditional colors and patterns used in batik. Vivid Delights therefore vividly shows Michelle Mesker's Caribbean colorful touch and her craftmanship.
Michelle Mesker (1957) studied architectural design at the Artibus Art Academy in Utrecht, the Netherlands. After her studies she returns to Curaçao. In the nineties she takes a batik course but is not satisfied with the results. Yet totally intrigued, she decides to delve into it and gradually becomes more and more captivated by this form of art.
Michelle refines her technique and plays with colors in her own way. Her designs also move away from the original batik patterns. Curaçao, and her passion for architecture appear in her work in the form of country houses, nature scenes, birds and of course the sea. Spain and Portugal where she lived for a couple of years also inspire. Especially the female saints and patrons.
More challenges
Michelle is always working on refining her technical skills, and challenges herself to create increasingly complex art pieces. More details, more depth, even more color, and larger work.
To make batik the fabric is partially coated with wax. Michelle Mesker does not use regular wax but beeswax. Each color layer is applied separately in this process. Sometimes this is repeated for up to 15 times. The result of this time consuming labor are bright, cheerful, contemporary tableaux made using the ancient technique that came to Europe from Indonesia around 1600.