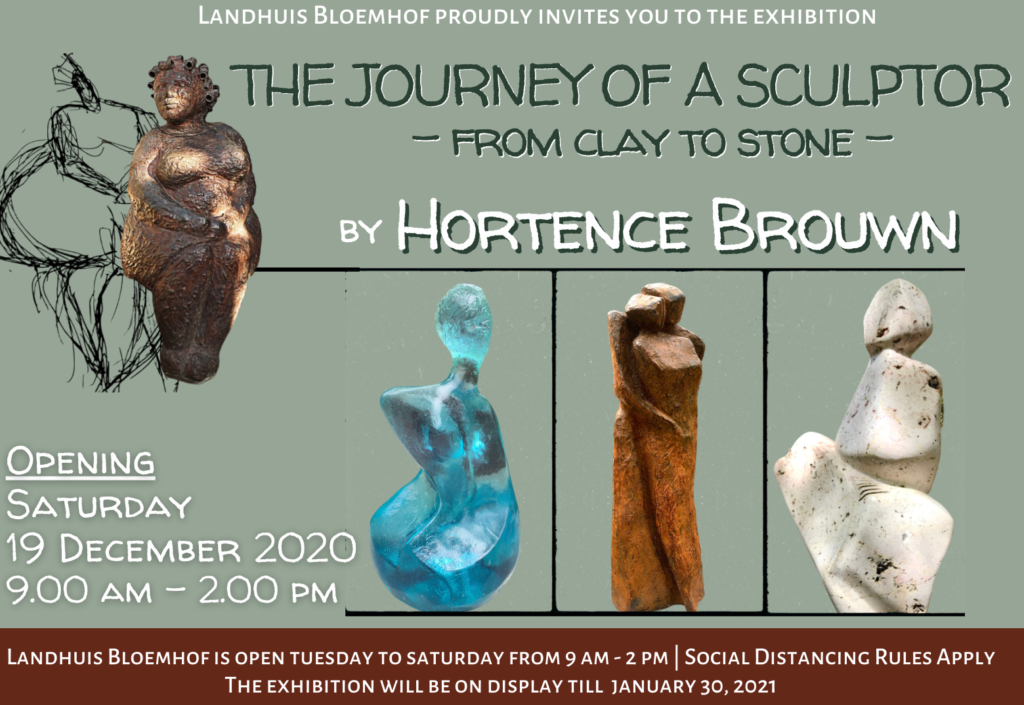 The Journey of a Sculptor
From Clay to Stone
By Hortence Brouwn
Date: December 19, 2020 . Extended till February 6
The Journey of a Sculptor - From Clay to Stone
With the exhibition 'The Journey of a Sculptor - from Clay to Stone' Hortence allows the public to discover the creative journey she has gone through as an artist. For more than half a century, numerous works of art have been created by Hortence. She has exhibited locally and internationally. Her work is on display at public places and much of her work has been purchased by private collectors around the world. Although she has an outside workshop in the garden and has exhibited at several occasions in group shows, this is her first solo at Landhuis Bloemhof.
Her work varies in shape, material, and style. Over the years she has worked in clay, cement, and a variety of stones from different countries and the 'Tafelberg'. "When working with clay you work from the inside out and when working with stone you work from the outside in".
About Hortence Brouwn (1937, Surinam)
Hortence Brouwn grew up in Paramaribo, Surinam in a loving family. She studied mathematics and worked as a math teacher. During this period, she also took courses at the art academy in Paramaribo.
In 1963 Hortence moved to the Netherlands to continue with her mathematics education and to study sculpture more closely. Ten years later she moved to Curaçao.
Extra activities
A tour along the various artworks of Hortence in public places on the island is in the planning depending of the government measures regarding the COVID-19.
Visits
The exhibition 'The Journey of a Sculptor - From Clay to Stone' can be seen until January 30, 2021. Every Tuesday and Thursday from 09:00 am to 1:00 pm she works in her open workplace in the garden of Bloemhof. If you want to make sure you meet Hortence during your visit, feel free to make an appointment with her tel. 5404863. You will then be personally guided by her.