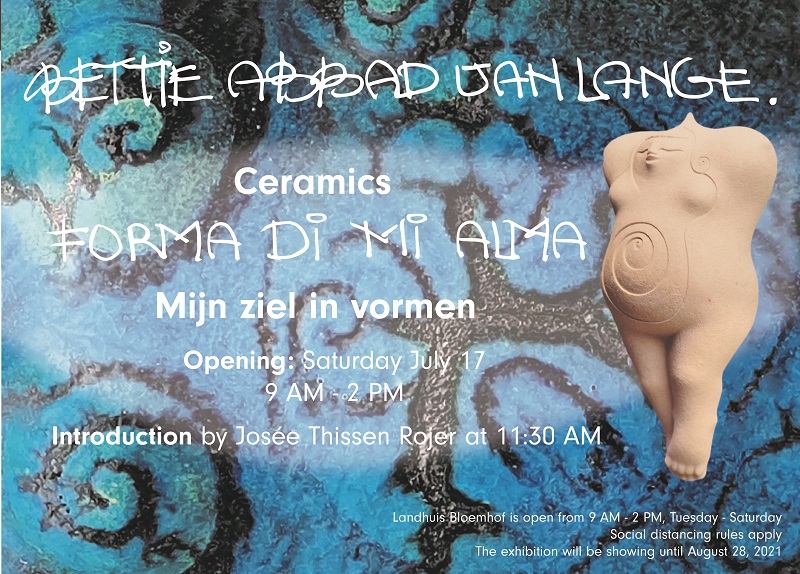 Forma di mi Alma - Shapes of my Soul
Mijn Ziel in Vormen
by Bettie Abbad van Lange.
Opening Saturday July 17
10.00 AM- 2.00 PM
Exhibition till August 28
Forma di mi Alma sheds light on the oeuvre of Bettie Abbad van Lange and consists of ceramic sculptures and objects, but also drawings and paintings from the 1960's until recent years. Her contribution to the development of Curaçao ceramic art in the second half of the last century is significant.
Opening Saturday July 17
Around 11.30 am on the opening day, art historian Josée Thissen-Rojer will hold an introduction and tell us more about the artist's work and life.
Forma di mi Alma
Bettie Abbad van Lange is a ceramist 'pur sang', with a passionate drive that pushes her towards perfection time and again. A final shape is not just a shape but represents the culmination of an inner quest that is brought to light through her hands. The materials, the shapes and the finishing with glazes and textures capture not only the process but also the story - or perhaps better - the message that this artist wants to share.
This exhibition shows work ranging from the 1960's to 2004 and gives an overview of the various journeys that Bettie has taken with her ceramics, paintings and drawings.
About Bettie Abbad van Lange
After her studies at the Academy of Fine Arts and Applied Arts St. Joost in Breda, the Netherlands, Bettie Abbad van Lange (1941) worked for five years at the prestigious Experimental Department of De Porceleyne Fles (Delft Blue) in Delft. In 1971 she moved to the Caribbean with her husband Dito Abbad. First they lived in Bonaire, then went to Curaçao where she set up her studio. She experimented a great deal with the structure(s) of clay, glaze recipes, and was a ceramics teacher at the Akademia di Arte, which had just opened.
Bettie Abbad van Lange exhibited throughout the Netherlands, in Germany and countless times in Curaçao (25 exhibitions in total). Her work has been acquired by the Museum Boijmans van Beuningen in Rotterdam, the Porceleyne Fles in Delft, the 'Rijkscollectie' in The Hague, the Municipal Museum of Arnhem, the Hermitage in St. Petersburg, Russia, and is also in private collections in the Netherlands, Germany, Belgium, Curaçao, Venezuela, Aruba and Costa Rica. In Curaçao her work is also in corporate collections such as the Court of Justice, SVB and the Sint Elisabeth Gasthuis (our former hospital)