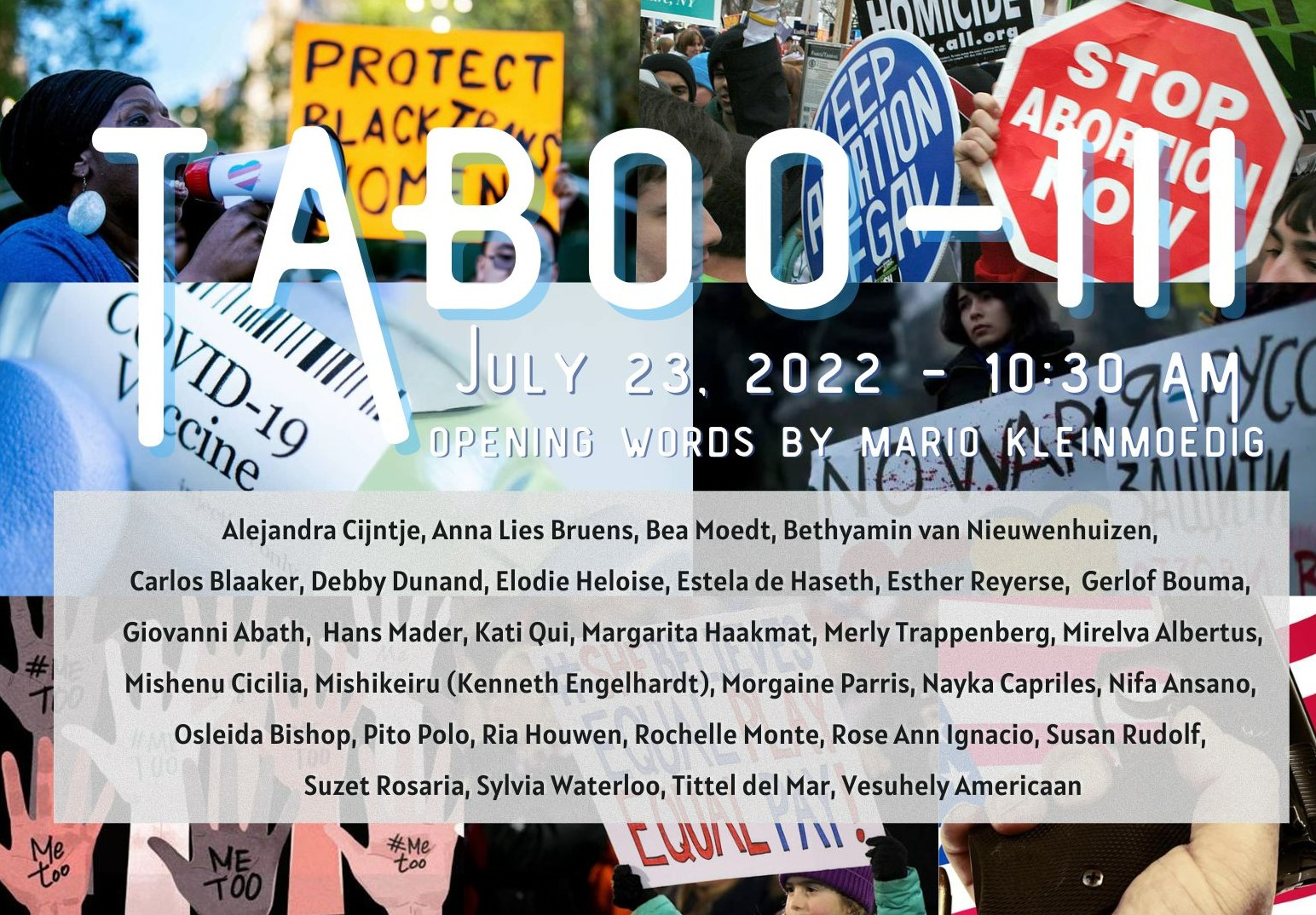 TABOO III
Group Exhibition challenging  us
In the past few years, we have experienced a lot of new things happening worldwide. Things we took for granted in our way of life were challenged in many ways. These changes, or shifts, sometimes released long established taboos from being taboo and introduced new taboos where there were none before.
The Covid pandemic alone put many of us at a distance from each other through new personal, moral, hygiene and privacy values in dealing with the (side)effects of this worldwide virus. We have seen the rise of an unprecedented cancellation culture, the introduction of #me too for abuse, the start of the Black Lives Matter movement, massive migrations all over the world, the growing use and abuse of social media platforms, the loss of power in the traditional mainstream media, the polarization in societies and politics and so on. All this happened in just a few years. Who can say what triggered what? Fact is, it's all happening right now. A lot has changed and probably the end is not nearly in sight.
Taboo III
Intrigued by all the above, Landhuis Bloemhof wanted to publicly reflect on the impact hereof. An open call was sent out to our local artist community and over 30 of them took up the challenge to give us their views on the taboos of 2022.
We are extremely happy that for TABOO lll the following artists submitted their  contribution, be it a painting, a poem, a collage, a photograph, a sculpture...
Proud participants are: Alejandra Cijntje, Anna Lies Bruens, Bea Moedt, Bethyamin van Nieuwenhuizen, Carlos Blaaker, Debby Dunand, Elodie Heloise, Estela de Haseth, Esther Reyerse, Gerlof Bouma, Giovanni Abath, Hans Mader, Kati Qui, Margarita Haakmat, Merly Trappenberg, Mirelva Albertus, Mishenu Cicilia, Mishikeiru (Kenneth Engelhardt), Morgaine Parris, Nayka Capriles, Nifa Ansano, Osleida Bishop, Pito Polo, Ria Houwen, Rochelle Monte, Rose Ann Ignacio, Susan Rudolf, Suzet Rosaria, Sylvia Waterloo, Tittel del Mar and Vesuhely Americaan.
Past TABOO exhibition history
In 2012 we organized the very first TABOO exhibition, Duncan Campbell, then manager at Landhuis Bloemhof, came up with this out of the box idea that led to an exciting and challenging group exhibition.
For TABOO II, which followed in 2015 Duncan felt the time was right to 'do it again', and he curated the second edition. He asked the artists to look at taboos close to home and see if they could put them in a positive light. His approach was 'What can a taboo do for you?' Taboos can paralyze people, but they can also be an excellent vehicle for change, voluntarily or otherwise.
That was 2012 and 2015. Just sit still a minute and think about it, where we are now compared to then? For TABOO III, curated by Rainy Marchena, we invited the artists to share and show what they see as the new taboos anno 2022.
 TABOO III events
During the exhibition, Landhuis Bloemhof will organize several events and other activities. We will keep you posted.