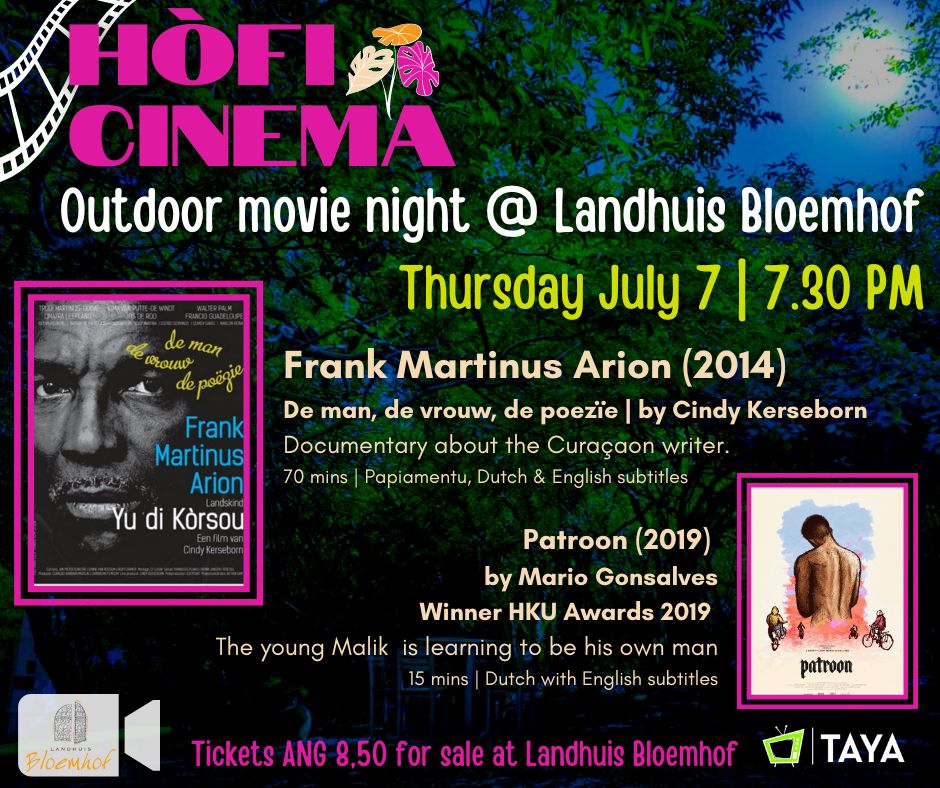 Thursday July 7 | 7.30 PM
Two movies about Caribbean Manhood, Art and Life!
Frank Martinaus Arion:
Arion's most read novel Dubbelspel is about a frantic dominoes match and a picture gradually emerges of the relationship between men and women in that island society. In the documentary, the Antillean machismo is the theme of a fierce and revealing discussion between seven Antillean men from diverse backgrounds. Contrary to that Arion in the film talks about the 'brave women' of the island, who also made the difference in his life and in his work.
Arion was above all a poet. Several examples of this can be heard and read in the documentary. Many of his poems are in Papiamentu. as a champion of this Antillean language, Arion founded a school on the island in which the children are taught in this language.
Frank Martinus Arion was born in Curaçao in 1936. He studied Dutch at the University of Leiden and Amsterdam. He obtained his doctorate in 1996 with The Kiss of a Slave, a dissertation on the relationship of Papiamentu with Western African languages and became professor at the University of Netherlands Antilles in 2009. In his novels and his poems, he gives a lively and loving image of Antillean society, but also provides criticism. Also the Netherlands, the former motherland, is not spared. In 2008 he returned his Royal decoration in protest against the 'Recolonization by the Netherlands'.
Directed by: Cindy Kerseborn
Language: Dutch, Papiamento
Subtitles: English
Patron
Malik and his mother Zoraya, immigrants from Curaçao who have moved to the Netherlands in search of a better life, live in a close-quarters social housing apartment and often butt heads. Malik sees Zoraya as only caring about herself, while Zoraya maintains Malik does not respect her. Their unwillingness to communicate or compromise pushes the two apart. Malik falls in with a group of neighbourhood boys, who explore abandoned buildings and bond over an oppressive societal system designed to hold them back. One night during a game of soccer, however, Malik provokes one of the other boys and ends up in a fight. Ostracised, Malik decides to move on from the neighbourhood. He meets a girl Aria and falls in love, able to express his feels and deeply connect with another person for the first time. Soon, though, Aria learns she's expecting a child. Malik, blindsided and unsure of what to do, decides to return home to Zoraya for advice. Zoraya refuses to sympathise with Malik, explaining to him the cold hard reality of life, and leaving him on his own. Malik realises that no matter his circumstances, he is the only one that has control over his future. Malik steps up, confronting his problems with himself and the neighbourhood boys. Malik returns to Aria and transitions into his new life as a father, vowing to be a positive role model for his newborn child.
Produced by: Recent & Vice
Director: Mario Gonsalves
Producer: Jeroen Scheper
Director of Photography: Rui Jiang Ong
Editor: Mario Gonsalves
Year: 2019 | Subtitle: English