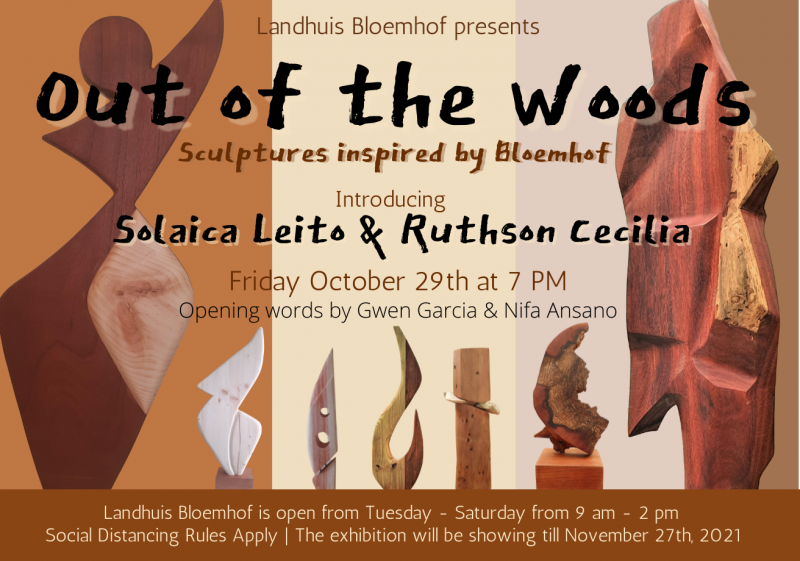 Out of the Woods
Scupltors inspired by Bloemhof
Introducing Solaica Leito & Ruthson Cecilia
Opening Friday October 29
Exhibition until November 27
Landhuis Bloemhof is honored to introduce two new artists during the opening of 'Out of the Woods' on Friday October 29th at 7 PM. This marks the first exhibition for Solaica 'Laica' Leito (1970) and Ruthson Cecilia (1961) in which they will make their debut with wooden sculptures made out of local wood, imported wood and reclaimed antique wood whereby some are combined with stone, metal and paint.
Laica and Ruthson are no strangers to Landhuis Bloemhof. Laica has been working here for the past 7 years and Ruthson since 2 years. The journey to this exhibition was a personal and profound one for both of them.
Solaica 'Laica' Leito
Laica first encountered art when she started working at Landhuis Bloemhof. "I am a very curious person by nature, open to what life has to teach me. My love and appreciation for art was nurtured as I got exposed and experienced various expressions of art during the past years at Bloemhof", says Laica.
The first seed of inspiration was planted in 2018 when she followed a workshop stone sculpting by sculptress Annie Clement. Since stone is a tough medium to find and transport, she didn't continue, until 2019. Suddenly everything fell into place when she attended a workshop by wood sculptor Gwen Garcia. She became so fascinated with the medium that she soon started experimenting at home. The experience and know-how she cultivated during the workshop by Annie Clement just a year prior in combination with what she learned during the workshop with Gwen Garcia really pushed her to an explosive urge to create. During the first and second lockdown she emersed herself into creation.
Ruthson Cecilia
Art has always played a role in Ruthon's life. "I have many ideas and I burst with creativity. I consider myself a 'handy' person. When I lived in The Netherlands I used to work with wood in my free time and I used to paint for my own pleasure. There was always a side of me that was hungry to share my creations with others. During the workshop with Gwen Garcia my inspiration to work with wood woke up again", says Ruthson.
During lockdown Ruthson took the opportunity to start expressing himself creatively again and has since made many pieces.
Landhuis Bloemhof board member and art connoisseur Nicole Henriquez introduces the two artists in this video:


A pact
While Covid measurements became less strict and people were allowed back to work, Laica and Ruthson shared their experiences. To both their surprise they mentioned that they had been experimenting with wood. They shared their gained knowledge with one another and made a pact to continue creating in the hopes of one day exhibiting their work. Who could predict that this day would come so fast?
 Wooden sculptures
'Out of the Woods' shows an array of wooden sculptures, combining techniques in a most creative way while maintaining the natural structure that makes this medium so loved. Both artist have their own unique style in which they combine and work using various types of wood like pine wood, wood from local trees like medlar and Caribbean Jujube (appeldam), but also meranti and basralocus which are reclaimed from antique furniture. Ruthson combined his local wood with stone, metal and paint.
Together Laica and Ruthson have managed to create a diversified, creative and inspiring collection in a relatively short period of time