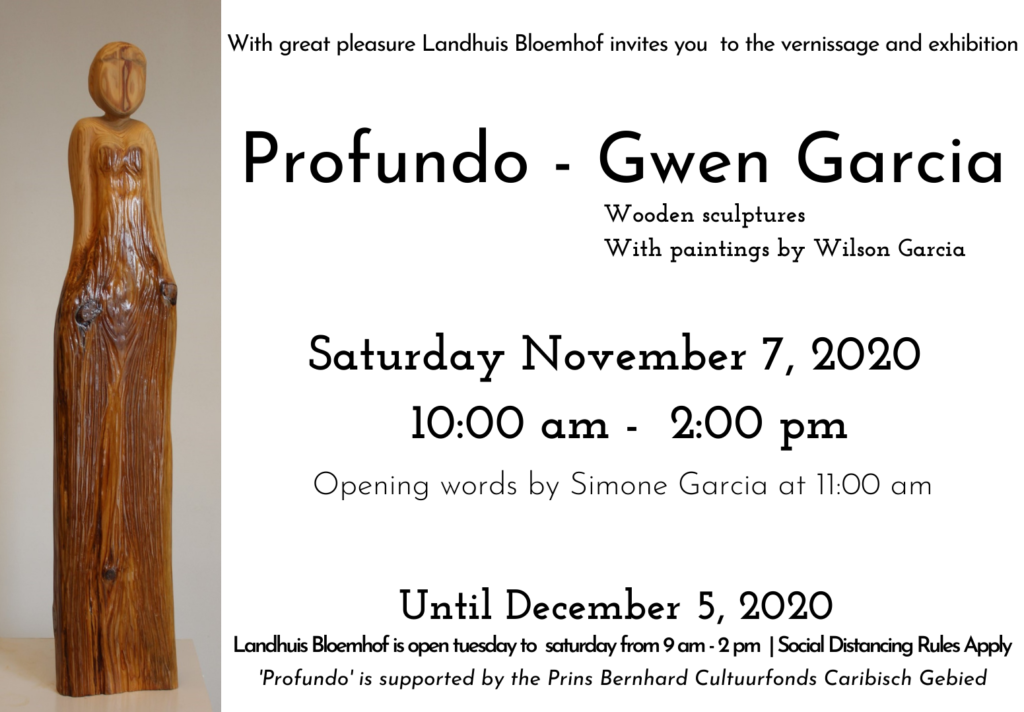 Date: November 7 till December 5
Profundo is all about Gwen Garcia's close encounters with himself, expressed in wooden sculptures. "My emotions, my pride and my identity … all I am is in this exhibition."
As a sculptor Gwen has a style that is not so typical. Gwen combines different types of wood and seeks a connection between them through the growth rings of each piece. Creating a new unity.
For Gwen the growth rings symbolize the Garcia family's deeply rooted relationship with art and with each other. His mother always assisted his father, painter Wilson Garcia, with setting up his exhibitions. She was the driving force behind his father, but also behind Gwen. "You have to do something with your drawings, etchings and paintings," mom said. She apparently saw much more than I did or wanted to see at the time. She never gave up trying to get through to me."
After Gwen's mom died in 2018, Gwen embraced his passion for sculpting and decided that it was time to show his work to the world. The influence of Gwen's father can also be traced in Gwen's sculptures. Subtle undertones and hidden layers invite the observer to come closer, take a second and a third look just to discover yet again something new.
Exhibition Catalogue Profundo by Gwen Garcia
'Profundo' is an ode to Gwen's parents. Some paintings by his father Wilson Garcia will also be part of the exhibition. And the very first sculpture Gwen made titled 'Huntu pa semper' will only be on display during the opening day. This sculpture is dedicated to the memory of Gwen's mother. The exhibition 'Profundo' can be seen from November 7 to December 5, 2020 and is supported by the Prins Bernhard Cultuurfonds Caribbean Area.
About the artist
Gwen Garcia (Curaçao 1964) left for the Netherlands after finishing high school at Radulphus College to study General Subjects at the Conservatory in Utrecht. After a year he switched to history and drawing at the Stichting Leraren Opleiding. For the past thirty years Gwen made a living working in ICT as a Technical Consultant Unix / Linux. He will soon start a new challenge with training as a furniture maker / (ship) interior builder.