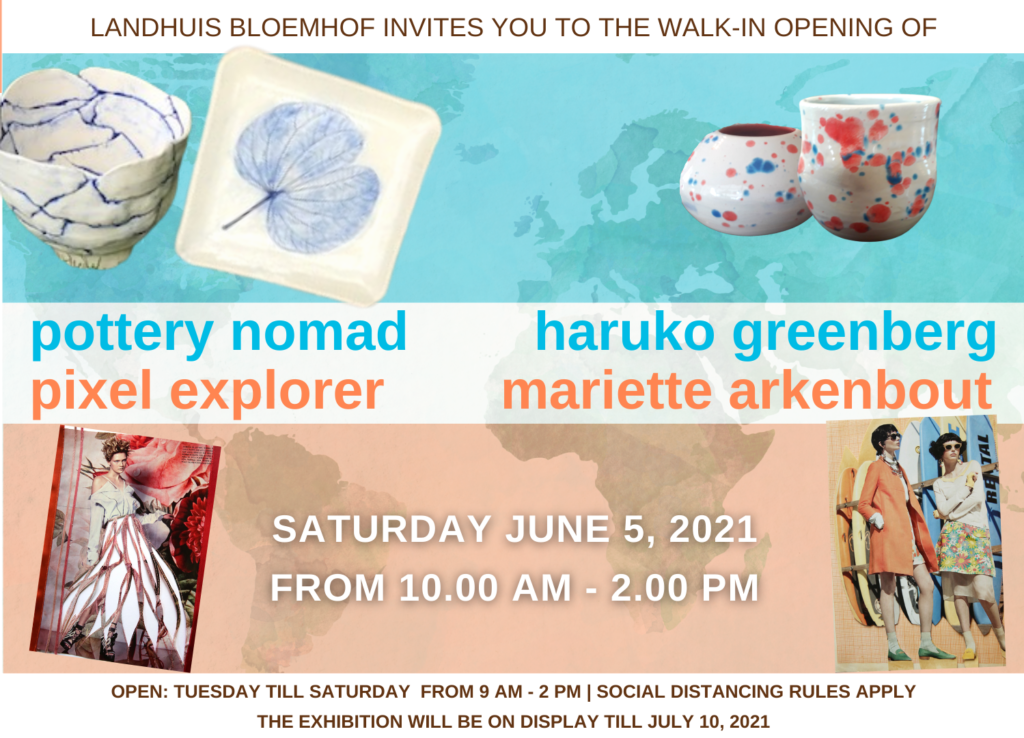 POTTERY NOMAD
PIXEL EXPLORER
Haruko Greenberg
Mariette Arkenbout
Opening Saturday June 5
10.00 AM- 2.00 PM
Exhibition till July 10.
Haruko Greenberg and Mariëtte Arkenbout have a special position in our community as they are the spouses of the American consul general Allen Greenberg and the Dutch representative Erwin Arkenbout. These 'spouses of' also happen to be remarkable creative women who share their uniqueness through their art with others wherever they are -or rather wherever the jobs of their husbands take them.
Haruko Greenberg connects to where she is through clay. She literally discovers the new country by working with her hands creating pottery pieces as a personal salute to the place she has been welcomed to. The strong sun of Curaçao, colorful buildings of Willemstad, and beautiful nature of the island inspired her to make pottery with vibrant colors and natural texture. "My pottery is a sum of all the places where I lived and the experiences I have had there with people.  As I travel from one place to another, my creations have spread in various parts of the world.  What a joy and privilege to imagine my piece can be in someone's hand, holding a warm cup of coffee, spending a happy little moment of someone's life somewhere!"
With Mariëtte Arkenbout it's all about movement, light, and colors as they are caught on film and in photographs. She is a storyteller who no longer needs words. She uses images and works on them with a variety of techniques and materials to play out her story and see where it leads to. A sewing machine being one of her tools. This artist is a professional photographer who seems no longer interested in the final result of a picture. The end result for her is the starting point to explore and study the infinite possibilities of what could happen with a photograph or a still after its final version. "Exploring the visual world of images is my passion. Whereas I started my career in writing, sometimes taking pictures for magazines and street photography, I discovered that the storytelling fashion and dance world where your imagination can run wild was more my cup of tea. Usually, I choose a series of pics and start exploring. I use ribbons, paint, and a sewing machine to create my collages. "