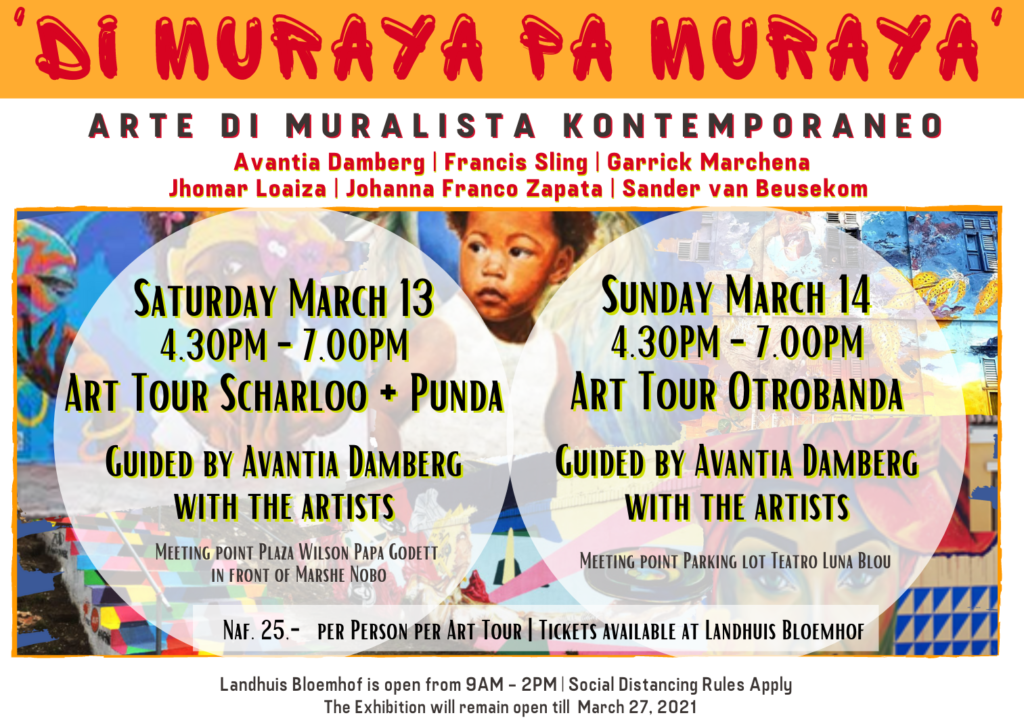 ART TOUR
by AVANTIA DAMBERG
Saturday March 13, 4.30- 7.00 PM:
WALKING TOUR SCHARLOO AND PUNDA
Sunday March 14,  4.30- 7.00 PM:
WALKING TOUR OTROBANDA
Entrance: NAF 25,00. Tickets for sale at Landhuis Bloemhof.
Most of the murals on the island are located near Punda - Scharloo and Otrobanda. Avantia Damberg will give guided tours of these neighborhoods in the company of the artists participating in the exhibition. She will explain the many different murals you will encounter along the way. The public can ask the artists questions about their own work.

Saturday March 13, 4.30- 7.00 PM  Avantia will give the tour of the neighborhoods Punda-Scharloo. Meeting place is Plaza Wilson 'Papa' Godett in front of the Marshe Nobo. During this walk Ed Craane's Window Art project in Punda will also be visited.

On Sunday 14 March, 4.30 - 7.00 PM it is Otrobanda's turn. Meeting place is the parking lot next to Teatro Luna Blou.
Tours start promptly at 4:30 PM. Tour tickets cost 25, - per person per tour, including a bottle of water, and are available at Landhuis Bloemhof.