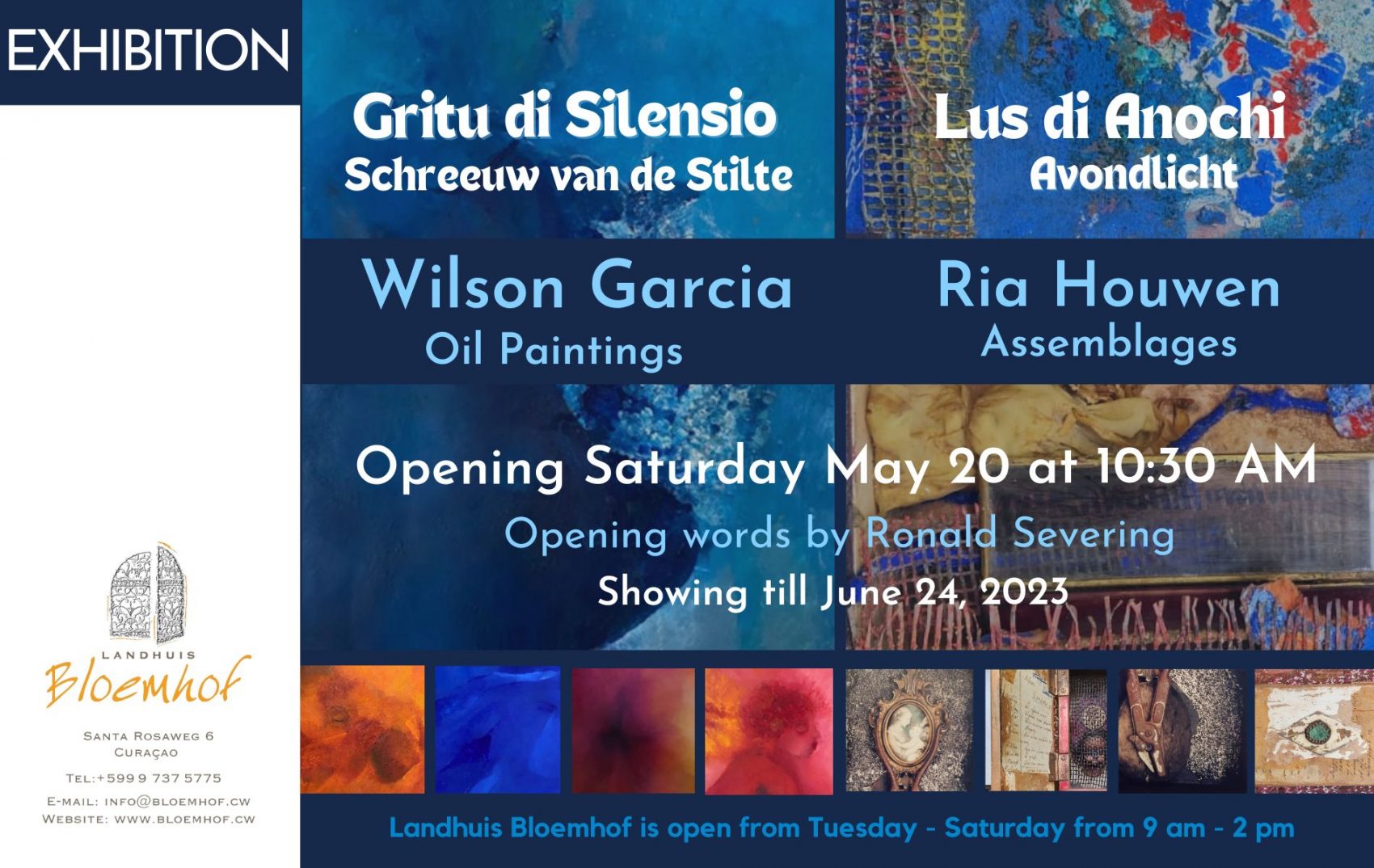 Schreeuw van de Stilte - Avondlicht
Cry of Silence- Evening Light
Showing new oil paintings by Wilson Garcia and assemblages by Ria Houwen.
Ode to friendship
This first duo exhibition is based on the longtime friendship between Garcia and Houwen and at the same time it is an expression of their mutual respect for each other's artistic careers. Both are well-known and successful artists, with strong ties to Curaçao, who have known each other for years, but never exhibited their art together.
Garcia, through his oil paintings, advocates for Curaçao's artistic legacy. In Schreeuw van de Stilte (Cry of Silence), he wants to pay respect to those who paved foundations on artistic and creative levels. This is a cry to remind others not to forget them. "With my paintings, I want to honor Pacheco Domacassé, Diana Lebacs, Ced Ride, and also my wife, Ria Garcia. People who have inspired me and continue to inspire me."
For Houwen, Avondlicht (Evening Light) means the light that slips away. A last gentle touch. "It is an ode to a lifelong friendship, where memories are safely locked in the heart, and then suddenly surface, along with the realization of how precious they are. It's like life in mythological times, light-footed, as if you're being lifted. Friendships had wings. Now there is only a light, a last glow and a feeling of gratitude."
In Avondlicht, Ria Houwen presents a collection of assemblages called "Pandora's Box" which she first exhibited in 2002. These are small boxes, some slightly open and others wide open. They invite you to peek and examine closer. The boxes are transformed by recycled mixed media. Worn, torn, and old materials of which their history is still palpable. According to Houwen, these objects are the key to unlocking the secrets of the subconscious, a gateway to ancient times, myths, and fairy tales that still hold power today. They bear witness to lives once lived in a distant, forgotten world of dreams, desires, and dramas.
Wilson Garcia: colorful connections between people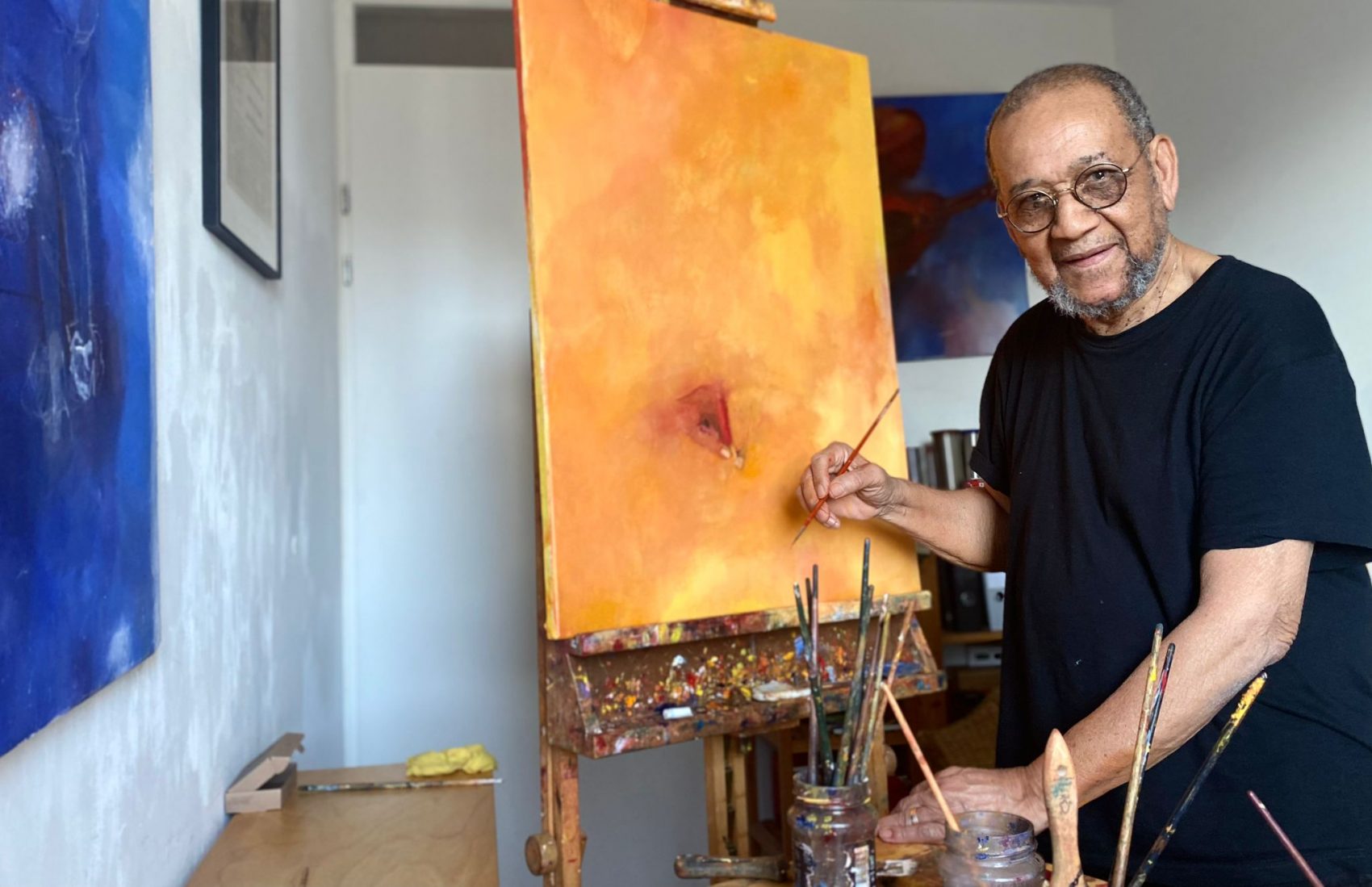 Wilson Garcia is a Curaçaoan artist who has made a name for himself in education and in the art world on the island. He worked for years as a coordinator and teacher at the Akademia di Arte and as a visual arts teacher at the Akademia Pedagógiko. He also taught children aged 5 to 15 years old, promoting their creative minds. In addition, he illustrated numerous children's books and postage stamps for the Antillean postal service.
Even after his retirement, Garcia remains actively involved in education, for example through his work for the Fundashon Material pa Skol. In the Netherlands, he worked for the Institute for the Development of School Childcare. With his art and his commitment to education, Garcia has made a lasting contribution to the cultural richness of Curaçao and beyond.
In 2000, he moved to the Netherlands, where he continued painting. Garcia's art is personal and invites connection. He captures human interactions in his own characteristic way through sensual ton-sur-ton images. By directly mixing oil paint on the canvas, subtle transitions and nuances emerge in his work.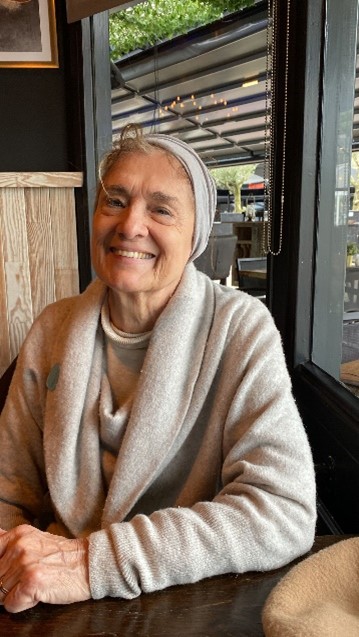 About Ria Houwen
Ria Houwen, a Dutch artist who called Curaçao her home for many years, is a fascinating and dynamic creator whose art has caught the attention of both local and international audiences. She taught at the Akademia di Arte, later became an art teacher at Radulphus College, and gave workshops both at home and on location.
Houwen's journey began at the Academy of Fine Arts in the Netherlands. She arrived in Curaçao in 1972, and soon thereafter made a name for herself in the local art scene with her first exhibition at 'galerie rg' in Punda in 1975. Since then, her work has taken her to many local and international exhibitions, establishing her name in the art world.
Houwen's work reflects her own personality, characterized by a remarkable tension between eroticism and spiritual life. This connects deeply with the Caribbean world where magic and reality are interwoven in a web of complexity. Her paintings reflect on the drama of the personal soul and connects it with the drama of the island, creating a stunning and unforgettable artistic experience.