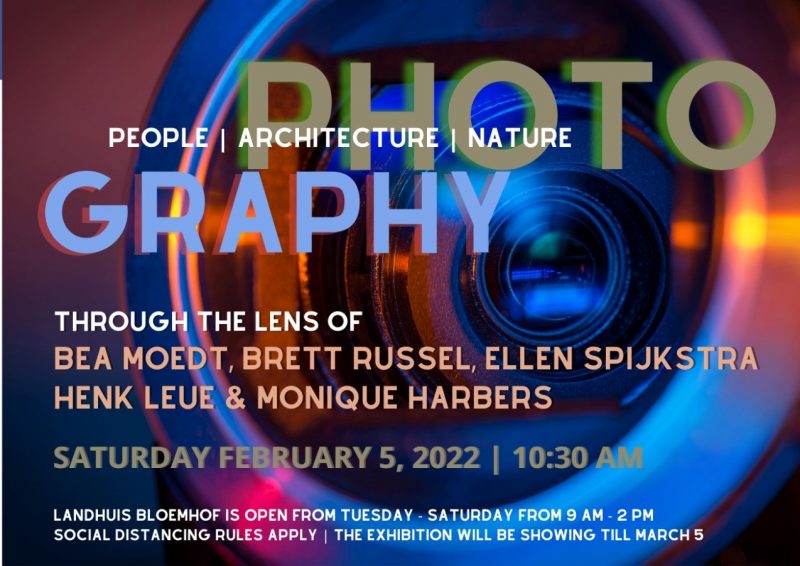 Photography
People – Nature – Architecture 
Bea Moedt, Brett Russel, Ellen Spijkstra, Henk Leue and Monique Harbers.
Opening Saturday February 5
We kick off the new year with a photography exhibition by Bea Moedt, Brett Russel, Ellen Spijkstra, Henk Leue and Monique Harbers. They will show photographs portraying people, nature and architecture. The exhibition opens on Saturday February 5 at 10:30 AM.
Bea Moedt
Bea Moedt has been living in Curaçao since 1993. The island inspired her to pick up the camera. With her photo's she tries to capture emotions of people with utter precision. Bea is self-taught with a deep inner urge for perfection. She photographed events like the North Sea Jazz Festival for the press. Animals, nature and airplanes are some of her favorite topics. Bea published photo books and won various prizes for her work.
Brett Russel
Brett Russel was born in 1982 on the island of Curaçao. At 18 he moved to The Netherlands where he studied science in human movement. He's a professional photographer since 2010 and is currently based in Curaçao. Brett started photography as a hobby, capturing just about anything like weddings, events and nature. Nowadays he works in advertising and is specialized in portraits and fine art photography. He finds inspiration in our local cultural scene, in music, like hip hop and jazz to contemporary art. His work is characterized by a balance of stylized conceptual photos with an accessible character. His work has been exhibited in Amsterdam, Rotterdam, Brussels, Berlin & San Francisco.
Ellen Spijkstra
Photography has always been one of Ellen's favorite hobbies. Her career as a professional photographer started by chance when she decided to submit a photograph for a contest in Curaçao in 1985 for which she won first prize. Prompted by this success she started to let others see her work. Ellen exhibited internationally and was selected for many private commissions. She decided to sharpen her photography skills and did just that at the New York Institute of Photography. She moved to Curaçao in 1980 after completing her studies as ceramist at the Minerva Academy of Fine Arts in Groningen, The Netherlands. Ellen has two passions and acareers: ceramics and photography.
Henk Leue
Henk's interest in photography started in 1978 with a very simple camera and lens. He was living in The Netherlands at that time since 1966. He had acces to a dark room and would develop photo's himself. In 1979 he returned to Curaçao where his passion for photography kept burning. He photographed many events and won various prizes. Henk enjoys capturing the wild nature and has a special love for country houses.
Monique Harbers
Monique Harbers takes underwater photos and loves shooting nature, ruins and architecture. Her work has been shown in many exhibitions, both in the Netherlands and Curaçao, including 2 solo exhibitions in the Netherlands; one in the muZEEum in Vlissingen and the other one at the Curaçaohuis in The Hague. In Curaçao, at the artists lounge of the Curaçao North Sea Jazz Festival, amongst others. In 2005 and 2006 she decided to follow several photography courses at the Fotogram institute in Amsterdam. She lives and works on Curaçao since 2009 where she documents the beauty of the island with her camera.