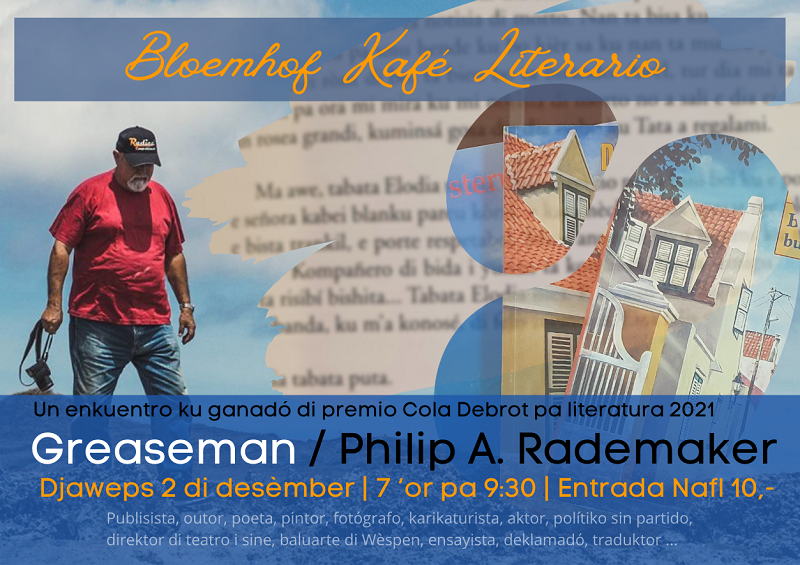 Kafé Literario 'Greaseman'
Honoring 2021 Cola Debrot Prize recipient for Literature
Philip 'Fifi' Rademaker 
Thursday December 2
7.00 PM
Entrance ANG. 10,00

Philip 'Fifi' Rademaker (1944) received the Cola Debrot prize for a small, but extremely refined and special oeuvre consisting of two collections of poems, a short story collection and essays. The Council of Culture made special mention of his limericks and sharp contributions to the correct way of speaking and writing Papiamentu.
'Greaseman', the title of the literary café dedicated to this literary artist captures the versatility of Rademaker as a person. 'Greaseman' refers to the almost impossible task of capturing this artist in one art discipline. In addition to being a poet and author, Rademaker is also a publicist, actor, director, street philosopher, politician without a party, painter, caricaturist and photographer.
In the literary café on December 2, however, the focus will largely be on his literary work. The program begins at 7pm and will open with a tribute to his work performed by fellow writers, poets, and performers. After the break Rademaker will be interviewed and will recite from his oeuvre. And as regular visitors to Bloemhof's literary cafés know, this evening will end with sharp closing remarks by three wise 'men.'
Ralph Winedt, Crisèn Schorea, Lucille Berry Haseth, Roland Colastica, Nifa Ansano, Bernadette Heiligers, Jeroen Heuvel, Laura Quast, Diana Lebacs, Marlon Reina and Elodie Heloise are your hosts and will be presenting the ninth Kafé Literario 'Greaseman.'
Literary oeuvre
In 2000 Bos di Buriku, a collection of 37 poems was published and republished in 2008 in a special edition for secondary schools in Curaçao. Together with Sinaya R. Wolfert, he made the photo book Otrobanda, a timeless poem of Curaçao, about the neighborhood Rademaker loves so much.
In 2015 another collection of poems Pa Steru Superfisie was published and in the same year the short story collection Di gaña gaña!  A new publication with a collection of Limericks is in the pipeline.