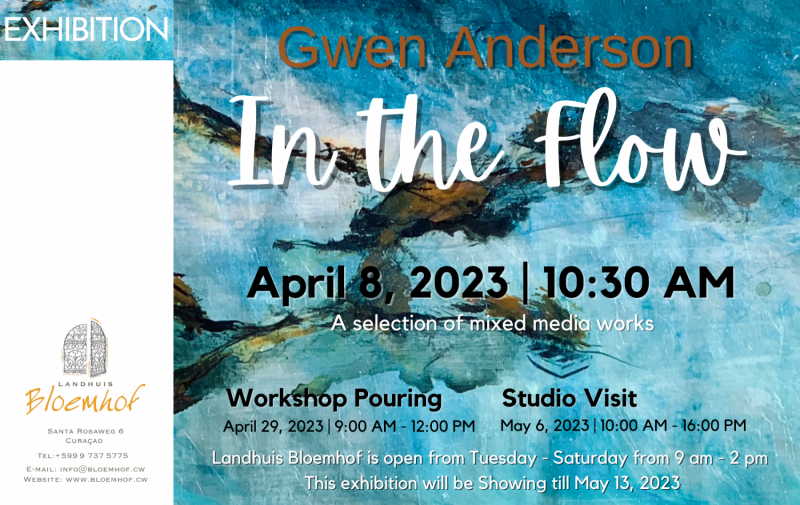 In the Flow
by Gwen Anderson
In the Flow, the first solo exhibition in Curaçao by multi-disciplinary artist Gwen Anderson features a selection of mixed media artworks covering different periods of her artistic journey.
Journey through Art
In 2006 Gwen Anderson re-emerged in her artistic element when living in New York after she joined the Art Students League.  In 2008 she moved to London where she kept her artistic rhythm by joining various courses in a variety of disciplines such as mixed media painting, experimental drawing, fine art photography, live drawing and art history. In 2010 she enrolled at The Sir John Cass Faculty of Art, Media and Design at the Metropolitan University in London, where she later attended the Faculty of Art, Architecture and Design, and completed her Masters in Fine Arts (Hons), Merit in 2014. During her stay in London she participated in many exhibitions, alternating between London and Curaçao.
When she moved to Tokyo the next year, she immersed herself into travelling, creating art and participating in exhibitions.  In 2018 she moved back to Curaçao where she continued creating art and participated in many group exhibitions to this day.
In the Flow
As a multi-disciplinary artist, Gwen's work is driven by bottomless curiosity. She has a background in science, which explains her constant urge to experiment. She pushes boundaries in her use of materials and techniques, exploring the relationship between order and chaos.
The paintings exhibited in this show, consist of multiple layers. In some of the works she uses silver leaf as a 'clean slate' on which colors, figures or images reflect themselves. The grids of tarnished silver leaf organize a silence onto which forms, or photographic images are placed as output from lifetime impressions. Other works are layers of encaustic, pigment, ink and shellac. The unpredictable nature of the materials and the hypnotic flame of her torch, help her to disappear into a meditative, focused state as she creates.
"My intention is to share the feeling of enchantment and tension that I experience in the creative process with my viewers. By layering different elements, forms and images, I aim to evoke a sense of watching things change in nature, and to allow the viewer to change their own thoughts and memories as time passes. My pieces all have a story to tell, but they are your stories, not mine."
The Experience
On April 29 she will guide a workshop in the 'pouring' technique which will take place at Landhuis Bloemhof.
On May 6 you are welcome to visit her studio where you get a glimpse and feel of where she experiments artistically.
The exhibition will remain open to the public until May 13 in Landhuis Bloemhof.