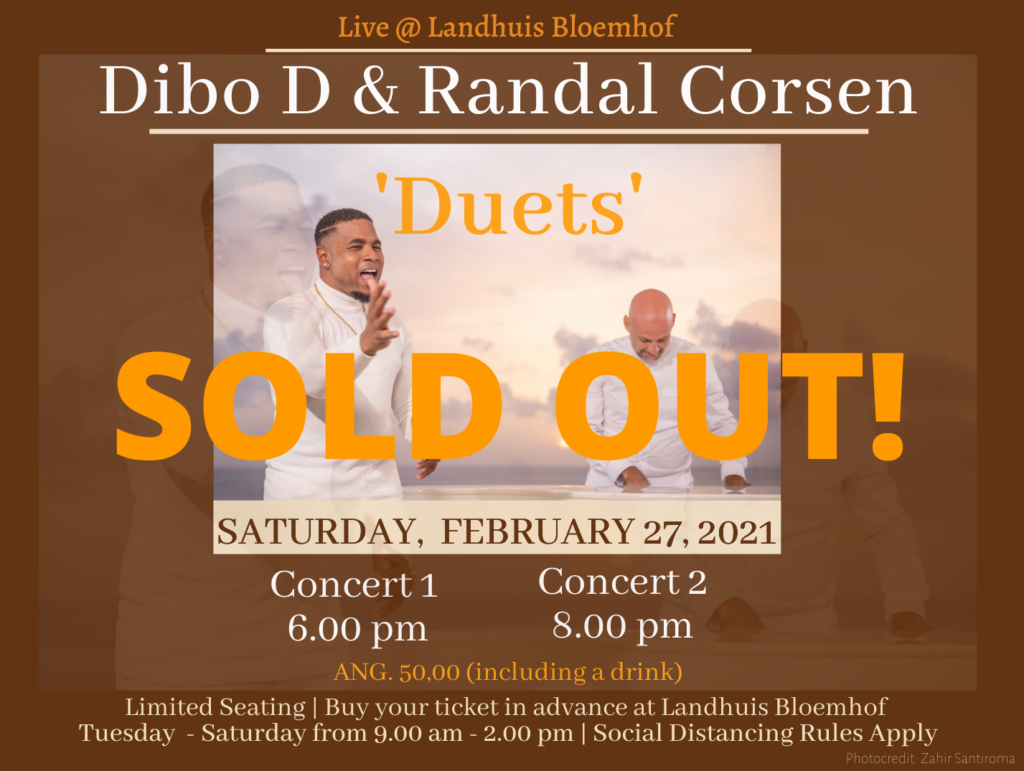 A preview:

Corsen and Dibo D.
'Duets' concert at Landhuis Bloemhof
Saturday February 27
Concert 1: 6.00 PM
Concert 2: 8.00 PM
With 'Duets' the well-known musical duo Randal Corsen and Dibo D will take the audience on an adventurous trip of both swinging and melancholic Antillean classics plus a number of their own compositions. Even Dibo's winning carnival tumba from 2019 'Kòrsou Ta Den Su Gloria' will be performed with a jazzy twist.
Randal Corsen and Dibo D started a special musical collaboration in 2016. Concerts followed in Curaçao, Aruba, the Netherlands and Colombia. They challenge each other to make innovative music and scored hits on the charts of Curaçao.
About Randal Corsen made a name for himself as a pianist, composer and arranger in the Dutch jazz and Latin scene; he won an Edison jazz award, composed an opera for Tania Kross, was musical director for Izaline Calister for many years, and has also worked with greats such as Roy Hargrove and Paquito D'Rivera.
 About Dibo D is one of the most successful young singer-songwriters of Antillean popular music, known in Curaçao, Aruba and Bonaire as well as among the Antillean public in the Netherlands. He also made a name for himself in the Dutch urban scene for a number of years.
Landhuis Bloemhof is pleased to announce this concert, of course with the necessary precautions related to Covid-19. The concert 'Duets' will therefore be played twice on Saturday 27 February. The first one starts at 6:00 PM, the second concert at 8:00 PM. Tickets cost 50 guilders (including a drink). There are only 35 tickets available per concert. Your ticket is for sale at Landhuis Bloemhof. Due to the limited number of seats we encourage you to purchase your tickets in advance.