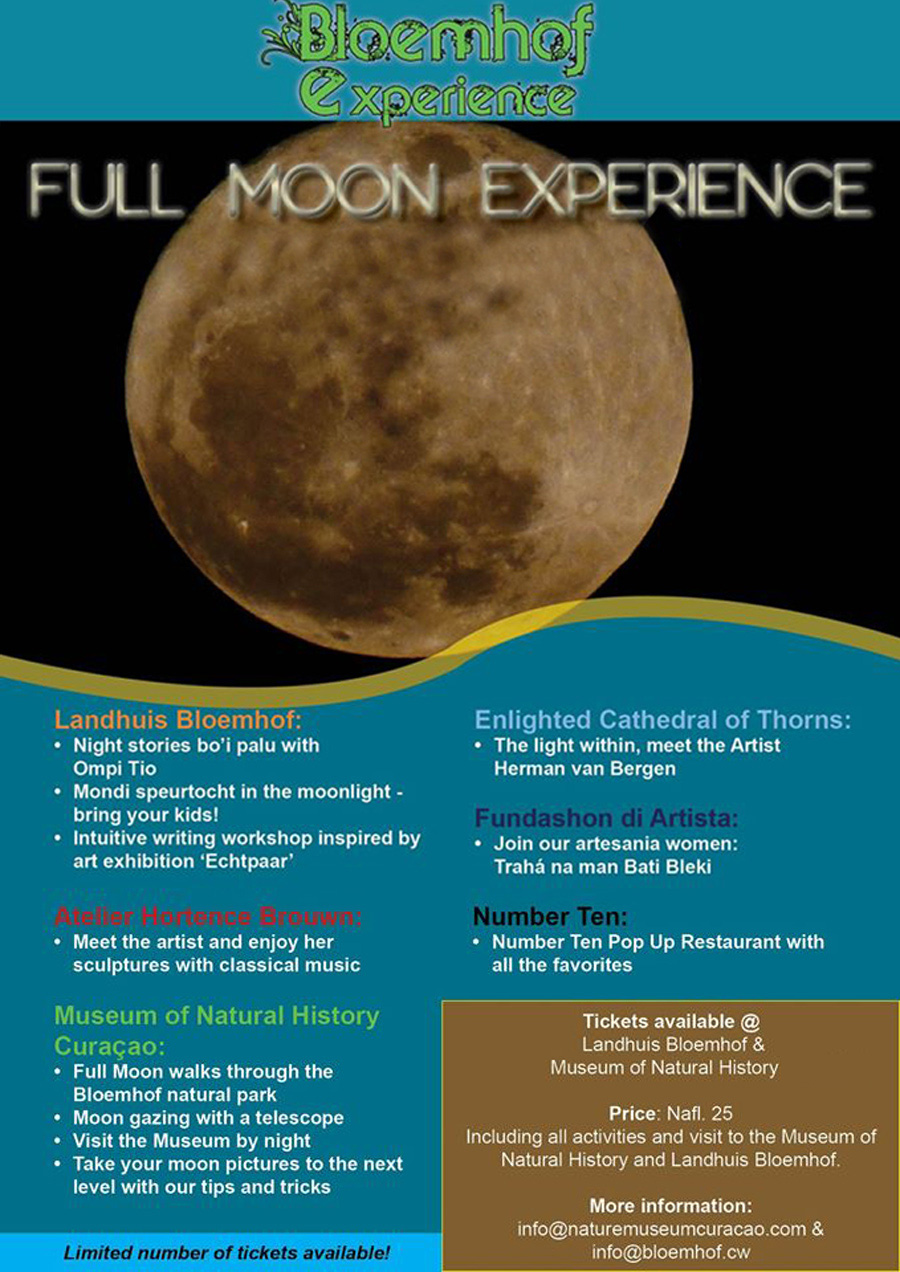 Tickets cost Nafl.25 per person including all activities but excluding food and beverage. Have you purchased your tickets already for the October 12 event which was postponed, keep them for this January 10 2020 event. Sales of the new tickets start in December. There are only a limited number of tickets available. Don't miss this opportunity to experience the full moon in a very different way! For more info mail info@naturemuseumcuracao.com!
Full Moon Experience
By Nature Museum Curacao
experience the full moon and enjoy art & nature @ bloemhof
On Friday January 10 2020 explore the full moon at Bloemhof during the Full Moon Experience organized by Bloemhof Experience partners Landhuis Bloemhof, Cathedral of Thorns, Fundashon di Artista, Museum of Natural History of Curacao, Hortence Brown and Cafe Number 10.
In an evening event filled with (hands on) activities you can go on a full moon nature hike, listen to night stories under the tree with Ompi Tio, bring your kids for a special mondi 'speurtocht', do an interpretive writing session inspired by the current Bloemhof Exhibition, explore the majestic Cathedral of Thorns by moonlight and all lightened up, meet the artist Herman van Bergen during scheduled guided trips, relax between the sculptures of Hortence Brouwn with classical music and meet the artist herself, watch the moon trough a telescope & learn the basic tips and tricks to make your own best full moon picture at the Museum of Natural History Curacao or visit the museum exhibits by night, and work with your hands to make your own art work. And this time Cafe Number 10 will also be present with a pop up restaurant in which you can acquire all the favorites.